Found on ESPN.Go.Com and written by Sarah Goff
Triathlete Sarah Groff finished second in the world rankings during the 2014 season, behind American teammate Gwen Jorgensen. She was also the top American finisher, in fourth, at the London Olympic Games.
My fiancé Ben is a pro runner, and with two athletes in the house, our kitchen is stocked with whole foods and high-quality ingredients. We love food and we love cooking. Here's what we're currently eating: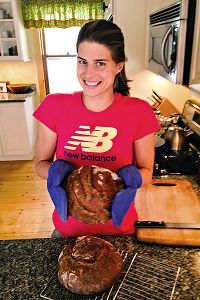 Oats: Before we head out the door for our first training session, Ben and I start most mornings with a heaping bowl of oatmeal. We prefer thick rolled oats, mixed with fruit and a tablespoon of peanut butter to add some protein, fat and a bit of creaminess. A bowl of oatmeal keeps us full and fueled until lunch. Side note: My grandfather is in his 90s and still works full-time — and for decades, his go-to breakfast has also been oatmeal.
Greek yogurt: A bowl of protein and calcium-rich Greek yogurt topped with almonds and fruit is my favorite post-training and bedtime snack. I try to avoid eating much extra sugar, so I prefer to stick with plain yogurt, which is also a great addition when making pancakes or baked goods. Since Ben doesn't eat yogurt, I also like the knowledge that one thing in the fridge is all mine!
Frozen blueberries and peas: In an ideal world we would eat only locally grown fruits and vegetables. But with our crazy travel schedules and the limited New Hampshire growing season, we would then find ourselves with a frequently sparse pantry if we ate only seasonal produce.
By always having frozen fruits and veggies, especially wild Maine blueberries and organic green peas, a bit of summer is at my disposal at any time. Plus, when I return home to a barren fridge after a long stint of training camps or racing, I know that I can always have some produce in my meal.
Coffee: While technically not a food, coffee is a major food group in our household. We have so many coffee brewing methods in our kitchen that I can't keep them straight (thankfully we have coffee books for reference!). Rather than consume cup after cup of jittery juice, however, we try to focus on one very good mug of java to start the day. It is possible, after all, to have too much of a very delicious thing.
Sourdough starter: In our house, we have two pets: our dog, Ötzi, and our sourdough starter. I'm a huge fan of baking homemade, whole-grain breads and have discovered that a slow-fermentation sourdough bread allows for a more easily digestible loaf. I also enjoy taking care of my little bowl of micro-organisms — it never sheds (unlike the dog) and it smells much better too!