Found on Ride of Silence website.
To HONOR those who have been injured or killed
To RAISE AWARENESS that we are here
To ask that we all SHARE THE ROAD

---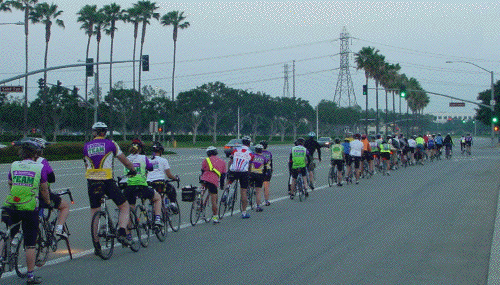 IRVINE
Where:
Irvine Civic Center

Route: Flat 9.7 mile loop around Irvine; on-street bike lanes and off street bike way:
Repeat of the same route used since 2006; run East on Alton then return on the
San Diego Creek bike way so we can be fully regrouped by the time we get back to the start.

Route Map

Irvine's Police Department has been invited to participate
and provide support in escorting again for the ride.
---
SAN CLEMENTE
  Where: Urban Bicycle Outfitters – North San Clemente Metrolink station
 Route: Flat 8 mile out & back to Baby Beach in Dana Point on PCH
( on-street bike lanes and segregated 'protected' side path)

---
---
Rides in HUNTINGTON?   NEWPORT?   SANTA ANA?  YOUR TOWN? 
We have had fatalities all over OC since last year's Ride of Silence
Consider coordinating a ride in your own neighborhood to get seen by more people 
in more neighborhoods, and make it easier to get more riders to participate, 
without creating even more traffic crossing OC to get to Fullerton, Irvine or San Clemente! 
Contact us for help.
---
At 7 pm Local Time we will join other communities across the planet in having
a unique ride which will bring increased awareness to the streets of our home towns – 
focusing on the numbers of cyclists who are killed and injured
by motorists who do not safely share the road.
Riders will gather at 6 & assemble about 6:30
then cue up for a 7 pm slow paced, single file, silent commemoration
to the riders who are no longer with us,
especially those who were disabled or killed in traffic.
A pack of single file – silent riders – pacing out for 8 to 10 miles…
we will share this hour with each other, and know that
thousands across the planet will also have marked the hour in their own time zone;
but also raise awareness among the many local motorists
who will be witnesses of our sombre parade.
It will be a dusk ride, Sun set is at just before 8; so wear your reflective & HiVis day glow,
& have plenty of reflectors & lights…

In case you don't know, California law changed a

nd lights
& reflectors are now required after dusk – even on bike ways and sidewalks
. 
Bicyclists killed in OC since last year's Ride of Silence…





Susan Stripko (June 2, Huntington Beach) 




Chelsea Kashergen (June 20,  Fullerton)  




James Waller (June 28, Irvine/Laguna Beach)




Richard Paine (July 11, Fullerton)




Alberto Ramos (July 20, Stanton) 




Debra Deem (Aug 27, Newport Beach)




Manuel Morales Rodriguez (Oct 30, Anaheim)




Michelle Lounsbury (Nov 4, Costa Mesa) 




Paul Lin (Nov 6, Newport Beach)




Pete Tomaino (Dec 24, Laguna Hills)




Joey Robinson (Feb 2, Orange)




Matthew Liechty (Feb 19, Huntington Beach)




Alfanso Franco (Feb 20, Santa Ana)




Sean Severson (March 21, Fountain Valley)


Geneveve Hall (April 6, Huntington Beach)
Kathy Sieberhein (April  16, Huntington Beach)


Haitham Gamal (May 6, Dana Point)
Please wear an arm band; Black in