Every athlete has to let go of his or her career at some point in life, whether due to eroding talent, old age or injury. Collegiate track athlete Cameron Lyle is bringing his career to an end for a much greater purpose—to extend the life of a man suffering from leukemia.
The Eagle Tribune reports the University of New Hampshire star shot putter will call it quits for the rest of his senior season, missing his team's last meets so he can donate his bone marrow to someone he's never met:
Lyle will be donating his bone marrow to an anonymous recipient on April 24. As a result, he will have to miss the final two meets of his career, including the America East Championships, where he was hoping to throw shot put.
According to the report, Lyle decided to have his mouth swabbed and his name placed in a bone marrow database back when he was a sophomore. Remarkably, he would later find out he was a perfect match for a "28-year-old male who is suffering from acute lymphoblastic leukemia":
They told me it was a one in 5 million chance of me being a match for a non-family member. They gave me the timeline and everything's been moving quickly after that. …

He has six months to live and I have the possibility to buy him a couple more years.
Lyle would love, as any athlete would, to extend his playing days. It's rare that someone who has competed for much of his life walks away completely fulfilled.
However, these extraordinary circumstances make this finale easy to embrace. Lyle even mentioned that he never really gave it a second thought, saying, "I knew right away I was definitely going to donate."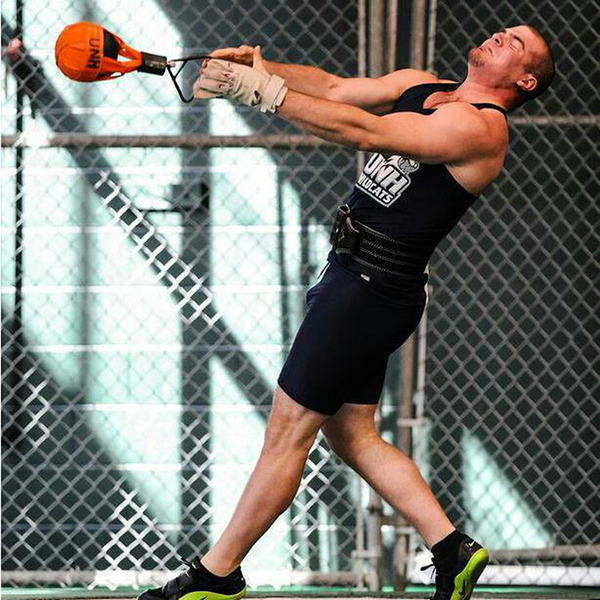 Photo Credit: The Eagle-Tribune
After the procedure, Lyle will be unable to lift 20 pounds over his head, which makes his specific athletic demands—discus, hammer and shot put—far too strenuous.
Those around the young man are understandably taken with the kind gesture, if saddened by the abrupt end to his career.
His mother, Christine Sciacca, is very proud of her son, saying, "He's my hero. I couldn't be more proud of him and how he's been so humble about it." However, she added, "It's been painful. I don't know of many 21-year-olds who would give up their last year of track to help another human."
Lyle's coach, Jim Boulanger, was on board from the start despite the apprehension of the athlete telling his mentor. Boulanger offered, "I told him, you either do 12 throws at the conference championships, or you give another man a few more years. It was easy for me."
As for those few precious years, Lyle stated that he would love to meet the man he will donate bone marrow to. Per the report, law mandates the two remain strangers for at least a year after the donation.
While others want to applaud this amazing act, Lyle continues to place the attention on the man whose life he is extending. "I'd love to meet him someday," Lyle said. "He's not that much older than myself. I just can't imagine what he's going through."
Lyle is a fantastic athlete, but he is clearly an even better man.